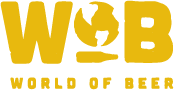 Do you enjoy the lifeless, host-free, trivia you see on TV screens in your local bar? Have you spent hours watching the screen and getting nothing when you win? Then why don't you come on out to World of Beer - Ft. Worth every Tuesday with PubGuys Trivia to actually have a GOOD time? You get a LIVE host, fantastic background music, AND you can win a $25 or $10 gift card as well! I think that beats the lifeless, prize-free existence that other trivia games offer. In addition to having a great interactive time with yours truly, you also get access to the over 100 beers that World of Beer has on deck every day. What happens on a typical Tuesday? Let me tell you.
Game 1
Each week we're out here giving everyone in attendance two chances to win a $25 or $10 gift card to World of Beer, Each game has a Themed Round and either a Visual Round or Kitchen Timer Bonus Round. Joining us this week we had regulars Got Here Late and Flaming Yawn, as well as newcomers DILF Squad. We had 25 players over 5 teams, and, for Game 1, everyone had a chance to get 10 extra points with their Visual Round sheet. This week's Visual Round was North American Cities, so each team was provided with a visual guide that was due at the end of Round 3 with a possible 10 points.
In addition to the Visual Round there is, in both Game 1 and 2, a Themed Round. During that round the questions and answers are centered around a common theme. If your team guesses the theme correctly, they get an extra point. The theme for this game was June Brides, so each question had something to do with marriage or weddings. At the end of Game 1 Flaming Yawn ended up taking 1st place, with Got Here Late coming in 2nd place. Here's question that stumped almost everyone during Game 1:
What was the name of Mick Jagger's second wife?
It was not Pamela Anderson, Demi Moore, or Barba Streisand, some of the more common answers. Only one team got it right:
Game 2
Most of the teams stuck around for Game 2, with Baby Hands changing their team's name to Student Dissatisfaction Survey. This time for the Themed Round we had the following: Royals, so each question/answer was pertaining to royalty. Replacing the Visual Round from Game 1 was the Kitchen Timer Bonus Round worth 12 additional points. During that round, which takes place at the end of the game, each team has a time limit to put down as many answers as they can to try and pull out a final win. This week the Kitchen Timer question was:
Excluding the state variances of the quarters and the presidential variances for the dollar coin, name each once-living (aka real) person that has appeared on US currency produced for circulation since 1928.
After the final scores were added up Got Here Late ended up taking 1st place away from Flamin Yawn, with Hoes Fo Sho taking 2nd place for the 1st time in several months! Honorable mention goes to DILF Squad who, after the game, called out a correct answer that would have tied them for 3rd. Here's a question that stumped everyone during Game 2:
Rock and soil debris left behind when a glacier melts is called what?
So many team said silt, sediment, or slag, but they were all wrong. The correct answer is:
If any of the above sounds like a better time than sitting at a booth staring at a TV screen, come on out every Tuesday from 7 to 9 PM for more fun, FREE, trivia with PubGuys Trivia and World of Beer - Ft. Worth. With an unbeatable beer selection, Taco Tuesday special pricing, and a full bar for those who aren't into beer, there's a little of something for everyone. In addition, unlike the TV trivia, you can actually win a prize more valuable than having your name on a local leaderboard! Join us next week, I'll be there!
- Desmond AKA "Thassodar" or D-munny
Do not forget to keep checking Facebook, Twitter, Instagram, and right here at pgtrivia.com for bonus point opportunities, #didyouknow spectacularness and more.