Select Date
2023
2022
2021
2020
2019
2018
2017
2016
2015
1899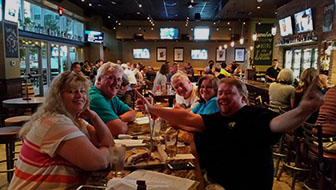 I have to say that this evening's trivia was about as much fun as I have had hosting trivia in a long time. The interaction between us was fantastic and believe it or not, I actually don't mind you giving me shit... in fun. Keep it up and we will keep having a blast.
Congrats to the winners, Hops (boy they turned out in force didn't they?), Trump's, and Mesh finished in the money but we had a great showing by some new teams as well, The Terrible Threes and the Fab Four. Hope to see you back.
Tonight's phrase that pays is: The election may be fixed, but PubGuys trivia never is.
See you Wednesday at 7.
PGTerrill
Scores for 2016-10-12
Game 1
34 year old ken bone in a mesh tank top
26
and in 1st place with 250 points
23
you ain't got to lie craig
2
Game 2
34 year old ken bone in a mesh tank top
24
you ain't got to lie craig
16