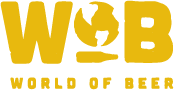 This week we had Shiner Brewing in the building at World of Beer - Ft. Worth offering up some free swag to anyone who purchased one of their two beers they had on draft. Since Tuesday night is Pint Night when anyone purchased their IPA or light blond lager, they received a free 16 oz tulip glass, or pint glass, with their beer. In addition to that Shiner also gave away free hats, t-shirts, posters, and sunglasses to the 1st and 2nd place winners of each game. So not only would you have received a $25 gift card (1st place) or a $10 gift card (2nd place), but you'd also get to have cheap tacos (for Taco Tuesday), AND some cool Shiner branded swag for your team! So, remind me, why weren't you there??
Game 1
During this game there was a birthday party at World of Beer - Ft. Worth, but only a few select folks decided to partake in the game. Of course, we had our regulars Fish Tots and Got Here Late, who were joined by returning winners KG3 from a few weeks ago. Some newcomers like Smartinis, and He Likes Me For My Personality, also joined the other teams trying to win a gift card and free swag provided by Shiner. Although the birthday party took up most of the space in the building we still had almost 30 players and 9 teams going at it! Here's the question that stumped EVERYONE in Game 1:
At what bar and ballroom does Jack find respite from his duties writing in The Shining?
We had some interesting answers like The Parlor Room, and The Grand, but they were all wrong. This question was actually part of our Themed Round, where the theme was bars, but I guess nobody has seen The Shining in a while. The correct answer was:
Game 2
All the scores were reset for Game 2, and we had a few additional people join us this time after hearing how much fun Game 1 was! Dr. Watson and Dillon jumped in with the other teams from Game 1 to see if they could take home the final prize. Instead of the Visual Round from Game 1, where the theme was bars, this game had a Kitchen Timer Bonus Round. During that round you had 2 minutes to add 10 points to your score, but only if you got all 10 answers correct. This time there wasn't a question that stumped every team, but there is one question that only one team got right:
What future Oscar-nominated director is credited as an animator on Tron and The Fox and the Hound?
A lot of teams really though it was Steven Spielburg but, although he was Oscar-nominated for several films, I don't believe he was ever an animator. Producer of an animated show (Animaniacs), yes, but I don't think he ever took up a pen to actually animate anything. The correct answer was:
You never know when a brewery will show up on a Tuesday with free stuff to give out, but I suspect they'll be coming out more and more often as the weather warms up. Why not come out and try your hand at some FREE trivia while trying the multitude of beers at World of Beer - Ft. Worth? You also have two chances to win as well, since there are two games every week from 7 to 9 PM. I'll be there, and I hope to see you too! It's always a blast, until next time!
- Desmond AKA "Thassodar" or D-munny
Do not forget to keep checking Facebook, Twitter, Instagram, and right here at pgtrivia.com for bonus point opportunities, #didyouknow spectacularness and more.