Select Date
2023
2022
2021
2020
2019
2018
2017
2016
2015
1899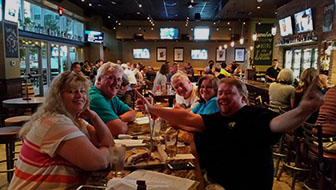 We were small but we were mighty! Thank you to the extremely enthusiastic trivia heads that fought the floods and the I35 traffic to make the first installment of PubGuys Trivia at World of Beer - Fort Worth something truly special.
Talking Heads proved that the more seasoned among us still got it and Beer Drinkin Pants did indeed also bring their thinking caps in Game 1. In Game two we saw a dominant performance thanks to the history teacher with Big Test Icicles but they were challenged by our old (and I mean that as nicely as I can) friends 5-Hole.
Thanks to all and see you next week.
Scores for 2015-05-13
Game 1
new location, same ol' 5-hole
18
Game 2
may showers bring 5-hole flowers
18