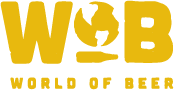 We're here once again with PubGuys Trivia and World of Beer - Ft. Worth! Each week we're here from 7 to 9 with some brain scratching trivia, as well as fantastic food and an insane beer selection! It is always free to play, and each team has two chances to win a $25 or $10 gift card for 1st and 2nd place, respectively. Now is a perfect time to come out because it's a new year and you never know when they'll have a local brewery out with free beer samples and glasses to give away! Here's what happened this week!
Game 1
This week we saw the return of Got Here Late, Jerk Store, and Fish Tots. They were joined by Ji, Shadow Lab, and On Second Thought, for a total of 30 players going at it this week! Each week there is a Visual Round for Game 1, where each team is provided a visual guide that gives ten pictures that have to be labeled and turned in at the end of Round 3. This week's Visual Round theme was Classic Album Covers, so each team had to associate the correct album cover with the band. In addition to that there's also a Themed Round for Round 2, and this week's theme was Color my world, so each question/answer that round had something to do with the color spectrum. In the end Fish Tots beat Jerk Store by one point, with a big gap between them and 3rd place. Here's a question that stumped almost everyone:
This was controversial because a lot of teams thought it was the thief, but they were all wrong. It was a:
Game 2
For Game 2 we lost a few teams, but also gained a team (Coob's World), leaving us with 24 players for the 2nd game. The format of Game 2 is the same, however instead of a Visual Round there is a Kitchen Timer Bonus Round at the end of the game. This gives players a last chance at adding 10 points to their score. This week's question for the Kitchen Timer Round was: In the 2016 Summer Olympics, name the 10 top category sports that involved the principle use of a net. Just like Game 1 there was still a Themed Round as well, and this time the theme was Deutschland über alles (Germany). Once again Fish Tots and Jerk Store took 1st and 2nd, respectively, but Ji and Coob's World kept the team scores closer than Game 1. Here's a question that stumped everyone:
We had a lot of great guesses for this one like oatmeal, strudel, waffles, or grits. The actual correct answer was:
With that we wrap up another week with PubGuys Trivia at World of Beer - Ft. Worth! If you come out to see us next week don't forget they also have their Taco Tuesday special going on during trivia! That means you can grab some delicious cheap tacos to go with your beer that was imported from Germany, Belgium, or even Tasmania! And you can do it all while putting your knowledge to the test with us, PubGuys Trivia! I hope to see you next week, I'll be there! Until next time!
- Desmond AKA "Thassodar" or D-munny
Do not forget to keep checking Facebook, Twitter, Instagram, and right here at pgtrivia.com for bonus point opportunities, #didyouknow spectacularness and more.