Select Date
2023
2022
2021
2020
2019
2018
2017
2016
2015
1899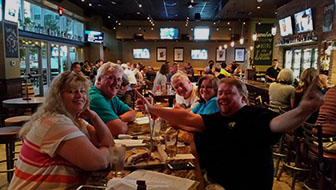 Great googly moogly what a night that was. One of the largest nights we have had at World of Beer – Fort Worth for PubGuys Trivia. You guys just continue to amaze. I hope you are having as much fun as I am.
What do you guys think? Please let me know. Tell me what you like, what you don't like and what, if anything, you'd like to see differently.
The hints seem to be popular so they will keep coming. But this time I want to focus on all the ways you can earn extra points.
Make sure you are registering your team for trivia. You do that by making sure you are signing in to this web site and claiming your team. Once you do that, all you have to do is click on that button that says "We're Playing" and tell us you're coming and a point will automatically be added to Game 1.
Answer the Email question of the week. Click on "Get the News Letter." We don't spam, I promise. In that one email you receive a week there are not only some hints, there is an email question that you can answer by filling in the bonus slot at any point during the night and earn a point.
Buy me a beer. No kidding. Just try. :-}
Make sure you keep reading these and looking for some quirky thing I tell you to say. And for this week that is "Denny Hamlin is a slezzball."
Congrats to Blake and his team (hope the birthday sex was magical) and to Mesh and Trump for being in the money this week.
See you Wednesday.
PGTerrill
Scores for 2016-02-17
Game 1
lady gaga as david bowie in a mesh tank top
29
beer puns are what ales you
27
grammy's 5-hole is old & wrinkly
26
Game 2
lady gaga as david bowie in a mesh tank top
30
we have holes, there are 5 of them
27
beer puns are what ales you
26