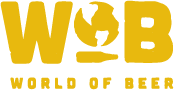 This week at World of Beer - Ft. Worth we had a representative from Elysian Brewing with us giving out free pint glasses to anyone who purchased their Space Dust IPA! I was able to get a pint myself and it was VERY good! We also had several new teams this week that decided to join us for some FREE trivia. Each week the teams have a chance for a $25 or $10 gift card for 1st and 2nd place, respectively. World of Beer also has some specially priced tacos every Tuesday as well, so you can get some food while trying beers from all around the world!
Game 1
Joining our group of regulars, Got Here Late, we had a few new teams playing this week. Newcomers Dunder Mifflin, Hobbs, and Team all went at it for a chance at a wining a gift card they could use the following week. As always Round 2 was a Themed round, and Game 1 always has a bonus Visual round as well where you have a chance at 10 extra points! The theme for this week's Visual round was Famous Houses which included buildings like the White House, the Governor's Mansion in Austin, and the Mark Twain house, amongst others. Got Here Late ended up winning Game 1 with a 4 point lead, but there was still one question that almost nobody guessed correctly:
What nation is home to the only tunnel in the world longer than the Chunnel?
The correct answer was:
Game 2
We lost a few teams between Game 1 and Game 2, but we still had enough teams to give it a go! This time we had a new team jump in; Sock Cuckers. They jumped in with Got Here Late and Team to make up everyone playing for Game 2. Game 2, unlike Game 1, had a bonus Kitchen Timer round in which the teams had a chance for 7 extra bonus points. Game 2 was a little bit more challenging because there actually was at least one question that nobody got correct:
I loved that show and honestly thought it was a bagpipe because the actor who played him is Scottish. We had a few teams guess the trombone as well, but they were wrong. The correct answer was:
Join us next week at World of Beer - Ft. Worth for some more PubGuys trivia! You can never tell when a brewery will show up giving out free pints, and usually some pretty cool swag, so make sure you stop on by! Even if trivia isn't your thing I can almost guarantee you'll find a beer you'll like out of their over 100 different cans from around the world, as well as their almost 50 beer taps as well. I always make sure to get a few beers while I'm there, and why not have some fun at the same time? Until next time!
-Desmond AKA "Thassodar" or D-munny
Do not forget to keep checking Facebook, Twitter, Instagram, and right here at pgtrivia.com for bonus point opportunities, #didyouknow spectacularness and more.