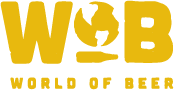 How are you doing today? I think your day would be a little better if you had a $25 gift card from World of Beer - Ft. Worth in your pocket! Every Tuesday we're playing some fun, FREE, trivia at World of Beer and you should join us! 1st place gets a $25 gift card and 2nd place gets a $10 gift card; there are two games so, in theory, you could win twice! What could make it better? Cheap tacos! Every Tuesday is also Taco Tuesday at World of Beer - Ft. Worth so not only can you flex your brain muscles, you can get some great food as well.
Game 1
We had 8 teams and about 30 players this game, and we also had the return of some of our heavy hitters Budgie Butt Stuff and Fish Tots. We also had some newcomers join us as well, with Trevor's Birthday and Smarty Pints giving their all to win 1st place. Game 1 always has a bonus Visual Round, and this week's theme for the Visual Round was Girl Scout Cookie names. That Visual Round may have led to the win for Got Here Late because they ended up winning the game with a ONE point lead! 2nd place went to Fish Tots with 24 points! There was no question this game that nobody knew, so let's move on to Game 2!
Game 2
Most of the teams stuck around for Game 2 but, unlike Game 1, there was a bonus Kitchen Timer round this time. That gives each team a chance for a possible 10 additional points to bolster their score and possibly win the game! Fish Tots ended up winning the game by three points, and Budgie Butt Stuff stepped it up to take 2nd. Honorable mention goes to Smarty Pints and Girls Night Out since they were close to last and only lost to 2nd place by two points. The question that stumped everyone this time:
According to Czech legend, what god of hospitality invented beer?
It wasn't Baccus, Gandalf, or Bier-Boy. It was certainly not "nobody cares about the czech republic", SMH. The correct answer was:
If you couldn't make it this week be sure to come out next week for PubGuys trivia at World of Beer - Ft. Worth! Also be sure to check out their massive beer selection as well as their fantastic entrees! It's always free to enter and you could go home a little happier, hope to see you next week!
-Desmond AKA "Thassodar" or D-munny
Do not forget to keep checking Facebook, Twitter, Instagram, and right here at pgtrivia.com for bonus point opportunities, #didyouknow spectacularness and more.