Select Date
2023
2022
2021
2020
2019
2018
2017
2016
2015
1899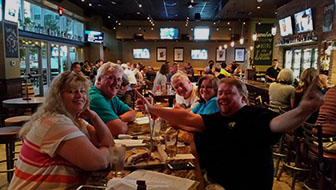 Yet another magical night it was for our little band of Trivia.
Congrats to an old team (Mesh Tank Top) and a new team (Sugar) for taking home the top prizes in Games 1 and 2 and to Random Target for finishing in the money as well. And let's all wish Dr. Dad a fond farewell, since rumor has it he will be taking his talents to another local. Hopefully we will have him for at least 1 or 2 more weeks.
This week's phrase that pays: "All mice must die."
Good Luck!
PGTerrill
Scores for 2016-07-20
Game 1
trump family spray tan specialist in a mesh tank top
40
there's always money in the banana stand
29
the battered housewives of the nfl
25
Game 2
the battered housewives of the nfl
23
the underperforming but probably not their fault 5-hole
21
trump family spray tan specialist in a mesh tank top
20
there's always money in the banana stand
18