Select Date
2023
2022
2021
2020
2019
2018
2017
2016
2015
1899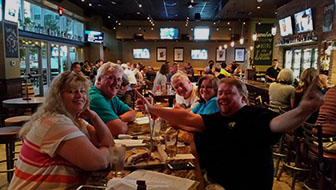 Well that was exciting… yeah yeah the Cubs won the World Series and Trump won the White House, but boy wasn't trivia fun last week?
OK, even I know that's not what you are talking about. So let's do this. Let's all take a deep breath and come together for some non-partisan trivia and have some great beer and good fun.
Tonight's phrase that pays is: "It's all going to be alright."
See you soon!
PGTerrill
Scores for 2016-11-02
Game 1
joe buck in a mesh tank top
34
next tuesday... we all take it in the 5-hole
30
better late than pregnant
25
and in 1st place with 250 points
23
Game 2
and in 1st place with 250 points
25
joe buck in a mesh tank top
21
better late than pregnant
20
trump's toupee fits in hillary's 5-hole only when wearing a mesh tank top
19