Select Date
2023
2022
2021
2020
2019
2018
2017
2016
2015
1899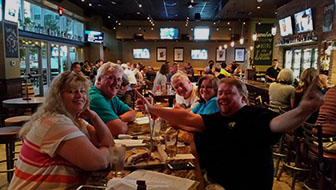 Well I asked for it and you delivered. Last week I asked you to be here early and you were. THANK YOU, THANK YOU, THANK YOU.
We also tried a few new things last week and according to your feedback they were a huge success. You seemed to like the hints placed on the various outlets. So make sure you are following the PubGuys on twitter, facebook, and right here at pgtrivia.com for all the latest news and yes… hints to the next games. And so without further ado… your walkup to me and say bonus point for Wednesday is…
NASCAR
Just say it and I will give your team a bonus point.
Look out for those hints and see you Wednesday.
Cheers
PGTerrill
Scores for 2016-02-03
Game 1
beer puns are barley funny
36
5-star recruits in a mesh tank top
35
a birthday hug to the 5 hole
35
the 5th sense: the sense of smell
28
Game 2
beer puns are barley funny
25
5-star recruits in a mesh tank top
19
trump has a 5 hole and ist magnificiant
18
the 5th sense: the sense of smell
4