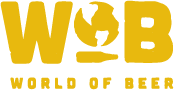 We're expecting our first rain in a long time this week, and there were a few familiar faces out at World of Beer - Ft. Worth! Each week PubGuys is at World of Beer from 7 to 9 PM each week for two rounds of trivia. 1st place wins a $25 gift certificate, and 2nd place wins a $10 gift certificate. Since there are two games that's two chances to win, and possibly leave with $50 to come back with! It's always FREE to play, and it's also Taco Tuesday, so bring your friends out for some brews and trivia!
Game 1
We had the return of one of our top teams, Fish Tots, this week, as well as Shit Show and our winners from last week, Nicky Flash. They were joined by Got Here Late, We Ran Out Of Cat Puns, and Tri-yo. This week's Visual Round was Car Company Logos, meaning each team had to name the car company that matched the correct logo. We also had a Themed Round for our 2nd round, and that theme was Some Like It Hot!, so each question/answer that round made references to heat, or hotness. Taking 1st place this round was Fish Tots, followed very closely by Jerk Store, winning with only a 1 point lead. There was one interesting question that one team got partial credit for, but nobody had it exactly right:
In the movie The Wizard of Oz what words appear on the hot-air balloon in which the Wizard leaves the Emerald City?
This was a very tricky one, which is why it was worth three points. We Ran Out Of Cat Puns almost had the whole phrase, which was:
Game 2
This game there was no Visual Round, and instead there was a Kitchen Timer Bonus Round. That round takes place at the end of the game and typically gives teams a chance to add 6-10 points to their final score. This week's Kitchen Timer Round was worth 10 points, and was very rough. The teams had to name what ten nations are listed between Haiti and Jamaica, alphabetically. The most points any team received this week was 6. The Themed Round for this game had the theme Cold as Ice, so all the questions and answers referenced the cold. During the first game Nicky Flash didn't do so well, but this time they came roaring back to take 2nd. Unfortunately for them Fish Tots ended up taking 1st place again, but with a larger lead this time. Here's one that stumped everyone:
Which US President bore the nickname "The Last Cocked Hat"?
There were several guesses, like Roosevelt, Jackson, and Coolidge, but they were all wrong. The correct answer was:
Join us next week for more fun trivia at World of Beer - Ft. Worth! It's always a fun time and, since it's almost time to go back to school, it's a great way to break up the weekly routine. The full kitchen is open and there's no possible way to try every beer each week, so come on out for FREE trivia with PubGuys! Until next time!
- Desmond AKA "Thassodar" or D-munny
Do not forget to keep checking Facebook, Twitter, Instagram, and right here at pgtrivia.com for bonus point opportunities, #didyouknow spectacularness and more.