Select Date
2023
2022
2021
2020
2019
2018
2017
2016
2015
1899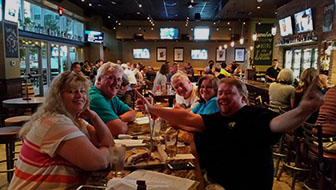 Well that was better. You guys turned out in force tonight and we thank you! We learned a few things about our new installation of PubGuys Trivia in the Town of the Cow. We learned Just because your team name is Kevin's Bacon doesn't actualy mean you know anything about Kevin Bacon.
Congratulations to the Hopochondriacs for placing in both games and winning game 2, which was clearly a tough set. And a big thank you to King Pong for their very enthuasitic win in game 1.
See you next Wednesday.
Cheers Bitches
PGTerrill
Scores for 2015-05-27