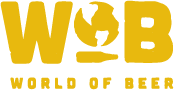 There were heavy clouds threatening to drop rain this week at World of Beer - Ft. Worth, keeping everyone inside. Lucky for us, and for the few teams that showed up this week, they never did! This will be a relatively short write-up this week since we had 5 teams and a little under 20 players this time. Nonetheless, we still had a great time playing FREE trivia, and the limited teams gave the new players who came a great chance to win! Perhaps next week will be cool and bright so everyone can take advantage of the great patio at World of Beer.
Game 1
We were missing Fish Tots and Budgie Butt Stuff again this week, but a few of our regular teams actually made it, Got Here Late & Aimee's Balls. Filling in the rest of the gaps we had Bellerinas and Drunk Docs. This week's Visual Round for Game 1 was Robin Williams movie covers. That round was due at the end of the game and gave everyone a chance to add 10 bonus points to their score. The Theme Round for this game was the number three, meaning every question/answer had something to do with the number three. The final winners for this game were Aimee's Balls and Bellerinas. Here's a question that stumped almost everyone Game 1:
Known as "The Queen of Disco", which 5-time Grammy winner died in May, 2012?
This was a tough one because we had teams guessing Whitney Houston, Gloria Gaynor, and Diana Ross. The actual correct answer was:
Game 2
One of the teams that was hanging out during Game 1 decided to join us for Game 2 as I am Groot. They gave it their best shot and managed to stay out of last place, beating out Drunk Docs. I was really rooting for Got Here Late to get a win this game but, alas, they were barely bumped out of 2nd place by...Second Place (formerly Bellerinas). Taking 1st place again this game we had Aimee's Balls! The Theme this game for Round 2 was about the Moon, and the bonus Kitchen Timer theme was based on television finales. Here's one that stumped everyone:
On Schitt's Creek, what is Alexis's middle name?
That was a very specific question for a popular comedy that was on the air for about 5 years. I guess none of our players used to watch, because nobody remembered it was :
Bring your friends and family to World of Beer - Ft. Worth next week for some fun, FREE trivia with PubGuys! The staff is amazing and there's no possible way to try every beer they have on draft, or in bottles, in one trip! Go on a "World Tour" of beers and grab some food, too! If you come out next week you could even win $25 or $10 toward your next meal! Sounds like a no-brainer, and I'll see you there! Until next time!
-Desmond AKA "Thassodar" or D-munny
Do not forget to keep checking Facebook, Twitter, Instagram, and right here at pgtrivia.com for bonus point opportunities, #didyouknow spectacularness and more.