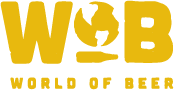 World of Beer - Ft. Worth was nice and cool this week, with temperatures in the mid-70s. That meant that we had some people on the patio while PubGuys, with me as your host, played trivia inside! There were fewer teams this week, but we still managed to push past 20 players. This week I tried the Dogfish Head Punkin Ale. It had great flavor and is only available for a limited time. As always we had two games between 7 and 9 PM, which allowed for two chances for a team to win a $25 or $10 gift certificate to World of Beer - Ft. Worth (for 1st and 2nd, respectively). Since it was a small group for Game 1 let's get right into it!
Game 1
This game we only had three teams, Got Here Late, Jerk Store, and Hoes For Sho. As long as we have at least three teams we'll play each week! This game's Visual Round was Name The 90s Sitcom, so we provided visual clues for some of the top 90s sitcoms for the teams to guess by the end of Round 3. The Themed Round for this game had the theme Anatomy of a Miracle, so all the questions and answers that round involved body parts, or anatomy. Since there were only three teams this game, naturally there was a question they would all miss:
It was a three-point question, so it had to be tough. Nobody got the answer correct, which was:
Game 2
This time the team from outside came in to join us for more PubGuys trivia at World of Beer - Ft Worth! With their addition, as Daddy's Home, we were able to take the player count to 29. We also had another team join us briefly, Just Them Bussy Boys, but they dropped out after Round Two. This game the theme for the 2nd Round was De plane, De plane, so all the questions/answers were aviation based for that round. Instead of the Visual Round we had a Kitchen Timer Bonus Round for Game 2, and the question was: According to the 2021 Forbes "World's Billionaires" list, what are the top ten cities worldwide based on the number of billionaires (not their value)?
Once again we had a question that stumped everyone playing, so we may not see it again:
Super Bowl XLV, in 2011, between the Pittsburgh Steelers and the Green Bay Packers was the first Super Bowl in at least four decades not to feature what?
There were many answers like: touchdowns, officials, or field goals. The actual correct answer was:
This week was quick and easy, with most teams taking a break from the grind and enjoying the cool weather. Come on out next week and grab a drink or two while playing some trivia with me, your host! As I always say: great food, an amazing beer selection, and FREE trivia; why not come out?! Until next time!
- Desmond AKA "Thassodar" or D-munny
Do not forget to keep checking Facebook, Twitter, Instagram, and right here at pgtrivia.com for bonus point opportunities, #didyouknow spectacularness and more.