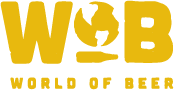 It's starting to look a lot like...trivia! If you were looking for a last minute gift for a beer connoisseur this week at World of Beer - Ft. Worth was your chance! 1st and 2nd place get a $25 and $10 gift card, respectively, and who doesn't like free food? This week we were joined again by Fish Tots and Magnificent Implosion, along with a group of teachers under the team name Hallock's Heroes. The whole team for Got Here Late couldn't make it so instead we had Got Here Late's "C" Team show up to represent. Returning for the first time in several months we also had Low Expectations as well.
Game 1
Presumably due to the holidays we had a little under 30 players this week but just about everyone stuck around for Game 1 and Game 2. Low Expectations was able to score a good amount of points, but the whole game was a duel between Fish Tots and Magnificent Implosion. They went back and forth each round so much so that we had to determine the winner with a tie breaker question! Magnificent Implosion ended up winning but, as usual, there was one question nobody got right:
It was not Mick Jones, who is still alive, and it was not Keith Moon either. The correct answer was:
Game 2
Fish Tots won 1st place this game with a pretty commanding 9 point lead over 2nd. In this game the team 3 Inches Collectively decided to step up and represent, beating out Magnificent Implosion for the 2nd place win! The total point scores for this game were pretty low for this game due to almost nobody knowing what the Kitchen Timer bonus round question was: According to Box Office Mojo (by IMDB Pro), what were the top 10 highest grossing movies in the United States in 2020? That question had a potential for 10 extra points but, at most, each team got about 4 right. Here's one of the questions NOBODY got right:
It wasn't "Who Farted?" or "I'm here for the boobs". Can you believe the first movie is almost 20 years old? My memory is fuzzy but the correct answer was:
"Shit happens when you party naked"
Join us next week for more trivia at World of Beer - Ft. Worth and grab a beer or two, too! Each week is Taco Tuesday and WoB membership club members get 25% off their massive beer can selection. The staff is always friendly and the beer is always cold, so come on out with your thinking cap on for a great night of trivia! Until next time!
-Desmond AKA "Thassodar" or D-munny
Do not forget to keep checking Facebook, Twitter, Instagram, and right here at pgtrivia.com for bonus point opportunities, #didyouknow spectacularness and more.