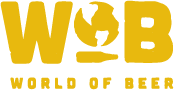 So you know that brain you use for work, chores, and mindless chit chat at work? Leave that at home. Instead, bring your BIG BRAIN to World of Beer - Ft. Worth for some trivia with PubGuys Trivia every Tuesday from 7-9 PM! Your big brain deserves some awesome beer and unbeatable food! And on top of that, while you have your BIG BRAIN out, why not give it a work out as well? They say a muscle atrophies when not used, and when was the last time you busted out the BIG BRAIN at work? It's time to blow off the dust with some beer lubrication, and give it a boost with some challenging trivia! Are you concerned that you may hurt your brain? Well let me ease your mind! Here's what happened this week:
Game 1
Each week we play two games with three rounds each, with a Themed Round for Round 2, and a Visual/Kitchen Timer Bonus Round for each respective game. This week we had the champs from last week, Fish Tots, as well as Jerk Store, going at it again! Showing up tonight along with them we also had Got Here Late, Aimee's Balls, and P & M. For the Themed Round for Game 1 we had the theme birds on the wing, so each question and answer that round referenced wings in some way. In addition to that we had the Visual Round, so each team was given a visual guide that was due at the end of Round 3. The theme for that round was dead band members, so the teams had to associate the deceased band member with the band/group they used to be in. At the end of Game 1 Fish Tots, surprisingly, was knocked out of the top two! Instead, we had Jerk Store in 1st with Aimee's Balls and Got Here Late tying for 2nd! Ultimately Aimee's Balls had the bigger brains (LAWL), and took 2nd place! Here's a question that stumped almost everyone:
What famous author committed suicide in Idaho in 1961?
Just about half of the teams got this one correct, although they did bring up evidence to me that his suicide was deemed an accident. The correct answer was:
Game 2
We still had over 20 players this game, with one of our teams departing for the evening. Carrying over from Game 1, we also had a Themed Round for Game 2. The theme this time was Root cause, so each question and answer that round had something to do with roots. Replacing the Visual Round we had the Kitchen Timer Bonus Round, where each team is given a time limit for a chance at 10 bonus points at the end of the game. This week the question was: Name the first ten movies -- including two sequels -- that started life as a Saturday Night Live skit. For that question I gave everyone a hint that the answers were all movies from before 2005, since there were so many SNL skits-turned-movies made. This game Fish Tots came back with a vengeance, taking 1st away from Jerk Store, and pushing them into 2nd place. Here's a question that stumped everyone:
I'm very familiar with fantasy books, games, and media, so I thought this question was TOO EASY. Alas, I was alone, because EVERYONE missed it. The answer has half of the hint in the name:
Come on out with your BIG BRAIN next week for more fun with PubGuys Trivia at World of Beer - Ft. Worth. Although, with a winter storm incoming, we may not have much of a crowd next week. I hope everyone stays safe, and protects their noggin, so they can join us each week from 7-9 PM for some fun, FREE, trivia with me, your host! I'll be there next week, I hope to see you too! Until next time!
- Desmond AKA "Thassodar" or D-munny
Do not forget to keep checking Facebook, Twitter, Instagram, and right here at pgtrivia.com for bonus point opportunities, #didyouknow spectacularness and more.