Select Date
2023
2022
2021
2020
2019
2018
2017
2016
2015
1899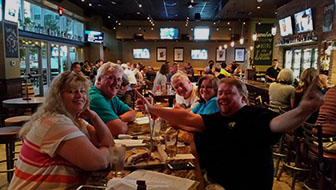 This is it, the end of the league for this round. Fret not if you are not in the lead to win the whole thing, because we also give away a prize to the top team from each location. It's neck and neck between a couple of you so bring your extra smart pants this week.
This week's phrase that pays is: toothache
See you Wednesday
PGTerrill
Scores for 2016-06-08
Game 1
aqib talib & plaxico burress in a mesh tank top
29
beer puns - phantom of hopera
21
Game 2
the 5 hole is here! the 5-hole is here!
20
aqib talib & plaxico burress in a mesh tank top
18
beer puns - phantom of hopera
15