Select Date
2023
2022
2021
2020
2019
2018
2017
2016
2015
1899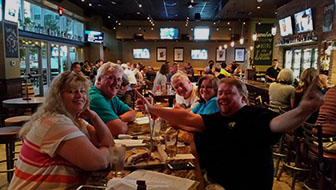 As one of our favorite teams would say... better late than pregnant.
You guys did great last week and we saw new teams winning and signing up here on the website and using the email question of the week to gain their bonus point. That is the way you win PubGuys trivia. Congrats to them.
Did you catch my announcement at the end of the show? We will be starting our Third PubGuys Trivia League on March 30th. More details on that soon.
This week's phrase that pays is - "Texas our Texas" which also happens to be a big hint on the first game since it will be Texas themed being that it is Texas Independence day tomorrow.
See you then!
PGTerrill
Scores for 2016-02-24
Game 1
kanye west's self image in a mesh tank top
34
beer puns are barley funny
28
Game 2
kanye west's self image in a mesh tank top
25
beer puns are barley funny
20
i wish this mike was a dick
11