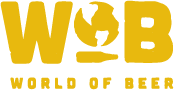 Thank you to everyone who came out this week to World of Beer - Fort Worth for some free trivia and some great prizes! Each week we have two games and give away a $25 gift card for 1st place and a $10 gift card for 2nd place. There was no guest brewery this week but that didn't stop me from getting one of my favorite beers, Seadog Blueberry Wheat from World of Beer's great brew selection! I paired that with a great Karbach Hopadillo and some delicious blackened chicken tacos as part of their Taco Tuesday!
Game 1
This week's game one had the return of Fist Tots and Got Here Late! They were joined this game by Magnificent Implosion and a new team, Pam I Am. This game had a bonus visual round that was celebrity TIME magazine covers from the 1950s. Each round was very close and had at least two teams tied each and every round. At the end, though, Fish Tots came out on top with a two point lead! One question from this game that nobody got right:
As always we had some good guesses like Clarence, and some silly ones (The Black Guy), but nobody got it right! Are you familiar with Ghostbusters? If you are, "Who you gonna call?" Certainly not any of these teams! The correct answer was:
Game 2
We lost a few teams in between Game 1 and Game 2 but it was still quite a showdown. In this game Round 2, our themed round, really shook everyone up and had the least amount of right answers. Even though that was the case there was still a three-way tie in Round 2, but one question that everyone gave the same answer to, but were wrong, was:
According to the King James version of the Bible, God instructed Noah to build the ark out of what type of wood?
Eveyone said cedar! There were other guesses, from other games, of teak, balsa, and even dogwood. But nobody guessed that it was:
Come on out next week to World of Beer - Fort Worth for some excellent food and an equally excellent beer selection! The holidays are coming up so while you're there you can pick up a gift certificate for your friends and family! I'll be there every Tuesday as your Trivia Host and local beer buff. Until next time!
-Desmond AKA "Thassodar" or D-munny
Do not forget to keep checking Facebook, Twitter, Instagram, and right here at pgtrivia.com for bonus point opportunities, #didyouknow spectacularness and more.