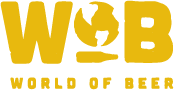 This week at World of Beer - Ft. Worth we had a surprise visit from Cowtown Brewing! They were promoting their Cold Fort Worth lager and gave away a free pint glass for anyone who purchased one. They also had their Flux Capacitor doppelbock that came with a free snifter when you bought one as well. In addition to the possibility to get a pint glass or snifter to take home, Cowtown also added a $25 gift card to the pot for 1st place of each game! That meant that not only would you get a $25 gift card from World of Beer - Ft. Worth, you'd ALSO get a $25 gift card to Cowtown! It's another reason NOT to miss trivia, especially because it's FREE to play!
Game 1
This week brought the return of Shit Show, Fish Tots, and Budgie Butt Stuff to our Thursday trivia night. As always we had some new faces such as our guests Cowtown Brewing playing, as well as newcomers Char and Lydia Rocks. This week's Visual Round theme was one word TV show titles from the 2000s. Typically Fish Tots will come in 1st by the end of the game, but Budgie Butt Stuff stole the game away with the Visual Round. Fish Tots actually tied with Shit Show for 2nd place but Shit Show lost the Rock, Paper, Scissors tie breaker. Here's one that stumped everyone:
It wasn't a family, a litter, or a pack. It definitely was not a "sh*t ton of mice". The actual correct answer was:
Game 2
Game 2 had a bonus Kitchen Timer round, instead of the Visual Round, and most of the teams from Game 1 stuck around for more trivia and cheap tacos on Taco Tuesday. This time Got Here Late pushed Fish Tots out of the top three, but still ultimately lost 2nd place to Shit Show. Budgie Butt Stuff won Game 2 as well, so they're one team to look out for if you come out to play. There's one more question that almost stumped everyone, but two teams got it right:
In mathematics, a lemniscate is often used as a symbol for what?
It's not used for division, the square root, or for Pi. The correct answer was:
Join us next week because you never know when we'll have a brewery in the house offering up pint glasses to go with their beers! There's always an amazing beer selection and friendly staff at World of Beer - Ft. Worth, so you're almost guaranteed to have a good time. Great tacos (and their full menu), beer, and trivia, it's a winning combo! See you next week!
- Desmond AKA "Thassodar" or D-munny
Do not forget to keep checking Facebook, Twitter, Instagram, and right here at pgtrivia.com for bonus point opportunities, #didyouknow spectacularness and more.