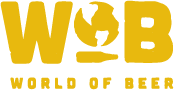 A whole day of rain and some very chilly weather hit the metroplex but that didn't stop the dedicated trivia players from showing up at World of Beer - Fort Worth! Tonight there was no brewery to offer up a free pint glass, but there were still two games of some challenging trivia! This week was the return of the Visual Round and, of course, the Kitchen Timer bonus round as well! Even though there was no brewery this week World of Beer always has a rotating selection of over 100 beer bottles and cans from around the world, as well as over 50 taps!
Game 1
This week's first game had some returning regulars with Fish Tots and Got Here Late coming back to get some great food and tasty beer. We also had a new team that came in to shake up the status quo, with Magnificent Seven winning the game after going back and forth with Fish Tots in a battle of wits! Coming up not far behind both of those teams in Game 1 we had another new team, Low Expectations only missing 2nd place by two points! This game didn't have any questions that stumped everyone, but there was one that had a lot of mixed answers:
What is the real first name of Iron Man's companion, "Pepper" Potts?
Now the category for this question was COMICS, so we were looking for the comic book Pepper Potts, not the Marvel Cinematic Universe Pepper Potts; a lot of people said Patricia. Unfortunately that was WRONG! The ACTUAL correct answer was:
Game 2
During this week's game two most of the teams stuck around (who wouldn't, in this weather?!) for more trivia! This time, though, Magnificent Seven wasn't even in the top three teams! Game two was dominated by our regulars Fish Tots and Got Here Late, who each got 1st and 2nd place, respectively. Similar to Game 1 there wasn't a question that stumped everyone, but there was one that only one team got right:
In which U.S. state is the only McDonald's in the world with arches that are not golden?
That was a good one! A lot of teams said Hawaii, New Mexico, and Nevada. But would have guessed the right answer was:
That's because Sedona legislature has rules on what colors businesses can use in advertising. Isn't that strange?! In any case thank you to all the teams that showed up this week despite the cold and wet weather, and thank you to the great bartenders and servers at World of Beer - Fort Worth! Join us next week for their Taco Tuesday and get there early for their happy hour beer pricing! If you knew any of the questions above get your butt out to Fort Worth for a good time! Until next week!
- Desmond AKA "Thassodar" or D-munny
Do not forget to keep checking Facebook, Twitter, Instagram, and right here at pgtrivia.com for bonus point opportunities, #didyouknow spectacularness and more.