Select Date
2023
2022
2021
2020
2019
2018
2017
2016
2015
1899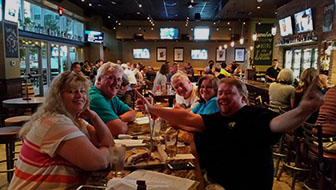 Sweet summer rain, like God's own mercy (quick, name the movie).
Looks like the rain didn't keep you guys away and for that I thank you. It was a big night for us, a big wig from World of Beer was there and I wanted to make sure he saw that PubGuys trivia was well worth having. You guys game through for me. Well done.
We only have two more weeks left in the league. Although it may look like there is a clear couple of contenders, don't forget that there is a prize for the local winner as well. So make sure you are showing up for each event.
For this week's phrase that pays: Hello Sunshine!
See you Wednesday!
PGTerrill
Scores for 2016-06-01
Game 1
harambe the gorilla in a mesh tank top
33
harambe got shot in the 5-hole
29
beer puns gettin jiggy wit it
26
Game 2
flash flood warning for the 5-hole
30
harambe the gorilla in a mesh tank top
29
keller kocks fat pats sacs
21
beer puns gettin jiggy wit it
3