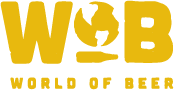 There was no brewery this week at World of Beer - Ft. Worth, but there was certainly lots of beer to enjoy! As usual this week was Taco Tuesday, so while you had fun playing trivia you could also have some delicious tacos as well! This week Got Here Late returned, and so did Fish Tots as well. New comers Bad Ass Bitches placed in the top three each game, and Not That Drunk deserves and honorable mention for almost getting 2nd, if only there wasn't a tie for 1st that game. Come on out for some FREE trivia next week!
Game 1
This game had a lot of players because the place was pretty packed. Each round we had a tie for 1st place, mostly between Flaming Yawn and Fish Tots. Ultimately they had to throw down in one of our patented (not really) Rock, Paper, Scissors showdowns for 1st place! Flaming Yawn eventually came out on top with the win, giving Fish Tots 2nd place. Here's one question that only a few teams got:
What now-deceased actress provided the voice of Gloria in the 2006 animated movie Happy Feet?
It wasn't Amy Winehouse, Whitney Houston, or Betty White. Do you know it? If you do, come out next week! The correct answer was:
Game 2
This game the Bad Ass Bitches stuck around and almost won 1st place, if only it weren't for Fish Tots stealing the win. Got Here Late tried their best but couldn't pull out the win. A few friends of mine teamed up under Not That Drunk, but they weren't able to win it either. The Kitchen Timer bonus round for this game was very challenging, with nobody getting more than 5 answers correct. One question that stumped almost everyone:
SO many guesses, so many colors, but only one was the right one! It was:
There's never a reason NOT to come out to World of Beer - Ft. Worth on Tuesdays for great beer, cheap tacos, and FREE trivia! What can be better than winning a $25 gift card (1st place) or a $10 gift card (2nd place) just for coming out and playing? And you never know when it'll be a pint night with one of our local breweries, either! Join us next week for PubGuys trivia at World of Beer! Until next time!
-Desmond AKA "Thassodar" or D-munny
Do not forget to keep checking Facebook, Twitter, Instagram, and right here at pgtrivia.com for bonus point opportunities, #didyouknow spectacularness and more.