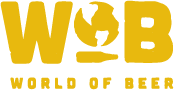 Last week was the final send off for our regular host at #PGtrivia, Katy! She was here this week just briefly to help me get my bearings but left after saying her final goodbyes to the great staff at World of Beer - Ft. Worth. Everyone say thanks to Katy for her dedication to the PubGuys family, and for also forming a bond with the many regulars at World of Beer!
Although this week was my first week hosting trivia solo at World of Beer - Ft. Worth everyone was sure to make me feel welcome! From what I can tell we had some of our most common regulars Wrong Answers Only and Fish Tots coming back again for some cheap tacos and an unrivaled beer selection. Joining them as well were The Undefeated (who, ironicallly, were defeated this week...) and Got Here Late. There were also several new teams and this week was a pint night provided by Karbach Brewing!
In Game 1 we had a very close game between Fish Tots and Disco Volante! Fist Tots stole the game away with a two point lead! One of the questions from Game 1 that stumped everyone was:
Which Buffy the Vampire Slayer actor was arrested in October 2014 in normally wholesome Boise, Idaho?
We had some humorous answers like "the white one" and "the guy who played Xander" but the correct answer was:
Game 2, which was also lead by Fish Tots in 1st place and a tied between Disco Volante and Got Here Late, also had a question that left everyone scratching their heads:
How many black keys are on a standard piano?
Even I didn't know that one, and I make music! Albeit my music is mostly rearranged samples, but I digress. The correct answer was:
Thank you to eveyone who came out and made me feel welcome on my first night hosting at the grandiose World of Beer - Ft. Worth, and a special thanks to Karbach Brewing for giving out free pint glasses with a puchase of one of their select beers! The ultimate winners of Game 2 were Fish Tots again in 1st place and Got Here Late beating out Disco Volante in a blistering round of Rock, Paper, Scissors. Make sure you join us next week for a shot at a $25 gift certificate or a $10 gift certificate for 2nd place! And as always don't forget to tip your bartenders and servers! Until next time!
-Desmond AKA "Thassodar" or D-munny
Do not forget to keep checking Facebook, Twitter, Instagram, and right here at pgtrivia.com for bonus point opportunities, #didyouknow spectacularness and more.