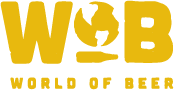 This week at World of Beer - Ft. Worth we had Revolver Brewing handing out pint glasses when patrons purchased one of their Blood and Honey beers! Each week there's a chance for a guest brewery to show up and offer pint glasses with a purchase of one of their beers, along with World of Beer's Taco Tuesday special, so that's two reasons right there to come out and play some trivia! Revolver Brewing also provided a 4 person brewery tour for 1st place each game! 1st place came out pretty good with a $25 gift card to WoB as well!
Game 1
This is the biggest game I've hosted at World of Beer - Ft. Worth since I started a few months ago. We had 11 teams and 44 players going at it, with regulars Fish Tots and Got Here Late also joining the fray. New teams KG3 and Fair DInkum definitely had their thinking caps on, with KG3 winning Game 1 by ONE point! Budgie Butt Stuff, who normally is in the top three, were pushed all the way to 7th place this game, but next game they came back with gusto! Here's the question that stumped everyone, but KG3, in Game 1:
It wasn't Mark Hamill, George Lucas, or Billy Dee Williams. It absolutely was not Samuel L. Jackson, since his character was not in The Original Trilogy. The correct answer was:
Game 2
A few teams left but overall we still had more than 30 people stick around for Game 2. This time our Kitchen Timer bonus round involved chemistry, in which each team had to list 10 of the lightest elements by atomic mass. As mentioned before, Budgie Butt Stuff came out of nowhere and made some impact this game. Got Here Late also got almost every element right in the Kitchen Timer bonus round as well. Here's the question that stumped almost everyone in Game 2:
Some teams picked their most popular songs, like Yellow Submarine and Helter Skelter, but those guesses were incorrect. The correct answer was:
Be sure to make it out next week because you never know when a brewery will show up to sweeten the prize pot for 1st or 2nd place! With more warm weather on the way I suspect that we'll have way more players in the coming weeks. Even if there's no brewery in the house you can always enjoy World of Beer's amazing food menu and their almost overwhelming selection of beers. I always have a good time, so come on out next week for more trivia with PubGuys! Until next time!
- Desmond AKA "Thassodar" or D-munny
Do not forget to keep checking Facebook, Twitter, Instagram, and right here at pgtrivia.com for bonus point opportunities, #didyouknow spectacularness and more.