Select Date
2023
2022
2021
2020
2019
2018
2017
2016
2015
1899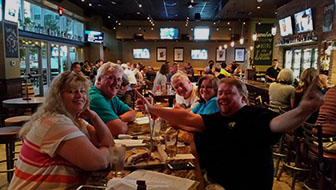 It's time to say goodbye to Summer... or is it? With the heat sticking around like your brother in law near pay day, it sure is nice to have a cool place on a hot day to play awesome trivia. I'm glad you are choosing to spend it with us.
Congratulations to last week's winners Trump's Toupee and Hops 4 Teaches.
This week's phrase that pays is: Hello Fall
See you Wednesday!
PGTerrill
Scores for 2016-09-14
Game 1
sad orbit in a mesh tank top
36
and in 1st place with 250 points
19
Game 2
sad orbit in a mesh tank top
23
and in 1st place with 250 points
23
30 year olds wearing high school state rings
19