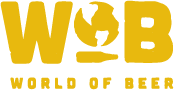 How would you like another reason to come out to World of Beer - Ft. Worth? If coming out to see your favorite trivia host wasn't enough, this week we had Firestone Walker Brewing from California out representing and providing free beer samples! Not only that, but they had free koozies, carabiner clips, and stickers for anyone to enjoy! To add even MORE to it they even gave away some awesome freebies for 1st and 2nd place of Game 1 and Game 2! You should have been there, it was a blast! Make sure you come out each week because you never know when you'll have a chance at some free stuff from a guest brewery!
This week, because there was no holiday, we had a much bigger turnout with 9 teams and over 40 players! We had our most consistent returning team Got Here Late joined by our other regulars, Budgie Butt Stuff and Magnificent Implosion. We also had some new teams like Team D&M and Smarty Pints! If you're a trivia buff make sure you come on down, it's FREE and it's Taco Tuesday!
Game 1
Each round of Game 1 was pretty close, with a tie for the top score in each of the three rounds. The ties weren't between the same teams, though, so the final winner of Game 1 was Budgie Butt Stuff. They one both games last week, so they're definitely a team to watch out for. They got a $25 gift card and also got to pick one of four freebies provided by Firestone Walker Brewing. There wasn't a question that stumped everyone, but there was one that only ONE team got:
Now they did not ask how many Dalmatians they had, just how many puppies, so the answer was not 100. Some people were close at thirteen or even twenty. The actual correct answer was:
Game 2
Just about everyone stuck around for Game 2 so we had just as much time the second time around. With the scores wiped for Game 2 some teams really put on their thinking caps and came out on top! In Game 2 newcomers Smarty Pints came out on top and Magnificent Implosion took 2nd place, knocking the previous game's winners out of the top 4! There was one question that did stump everyone this time, though:
We had some great answer with War of The Worlds, The Odyssey, and even Dune, but they were all wrong! The correct answer was:
This week was a lot of fun not only because it was trivia night, but also because World of Beer always has an amazing selection of great beers! Their food is top-of-the-line as well! Come on out next week for their Taco Tuesday specials and a chance to win a gift card while playing trivia! Who knows, maybe they'll have another brewery out next week giving out free samples and some great swag, too! Until next time!
-Desmond AKA "Thassodar" or D-munny
Do not forget to keep checking Facebook, Twitter, Instagram, and right here at pgtrivia.com for bonus point opportunities, #didyouknow spectacularness and more.