Select Date
2023
2022
2021
2020
2019
2018
2017
2016
2015
1899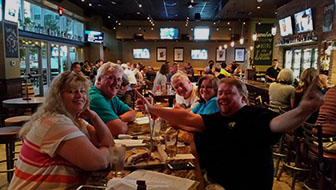 The galaxy is at peace once again and we resume our regularly scheduled trivia on Wednesday.
Thank you so much for all of those who showed up to our first theme trivia night at the World of Beer – Fort Worth. I know it was a doozy of a night and the game was a bit tougher than expected. But you rose to the occasion and no one got hurt, especially your esteemed host who clearly needs to work on his pronunciation of Star Wars names.
The phrase that pays this week: Nyquil is not a horse's name
See you Wednesday!
PGTerrill
Scores for 2016-05-04
Game 1
ted cruz - zodiac killer in a mesh tank top
34
jek porkins in some assholes chaps
25
Game 2
jek porkins in some assholes chaps
23
ted cruz - zodiac killer in a mesh tank top
19
may the 5-hole be with you
13