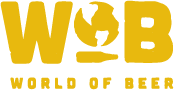 The tempurature was mild this week which brought out a bunch of teams for trivia at World of Beer-Fort Worth! At most we had 44 players in 8 teams and everyone had a chance to win in Game 1 or Game 2. Each week we have a bonus Visual Round for Game 1, and a bonus Kitchen Timer round for Game 2. In addition to that each game has a themed round for Round 2. With all of those chances for extra points, even if you're not that great at trivia, you could still win 1st or 2nd place! Make sure you come out!
Game 1
We had some regulars who hadn't been at WoB for a while, like Ty Webb and We Ate Before, and the rounds were very close for every single round. For the 1st time ever we had a seven way tie for 1st place in Round 1! The theme for Round 2 was Thirteen Colonies but a lot of teams thought it was the East Coast. At the end Ty Webb took the lead by one point, barely beating out Backdoor Bandits! One of the questions that stumped everyone was:
That's a tough one and we had a lot of guesses like the Titanic, USS Constitution, and even Noah's Ark (seriously?!). The actual correct answer was:
Game 2
In Game 2 most of the teams from Game 1 stuck around for a reset of the scores and another chance at a gift card for 1st or 2nd place! This time though Ty Webb wasn't even in the top 3, with long time regulars Fish Tots, Got Here Late, and Budgie Butt Stuff going at it all the way up to the Kitchen Timer Round! Coming out on top we had Fish Tots beating Budgie Butt Stuff by 3 points! That means the Kitchen Timer was a make-or-break situation for every team! The question that stumped everyone this game was:
Strong guesses all around with Adele, Post Malone, and Lil Nas X. But none of those were right! The correct answer was:
Do your best to make it out next week to World of Beer-Fort Worth for more free trivia! As always they also have their Taco Tuesday going on so you can get some awesome tacos to go with their ever-changing beer selection! On top of that you get to hear my amazing voice (never said I was humble) reading all the trivia! Until next week!
-Desmond AKA "Thassodar" or D-munny
Do not forget to keep checking Facebook, Twitter, Instagram, and right here at pgtrivia.com for bonus point opportunities, #didyouknow spectacularness and more.