Select Date
2023
2022
2021
2020
2019
2018
2017
2016
2015
1899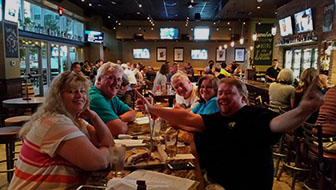 It was a great evening in the town of the cow and really good to see some old faces return. In fact, it was the night of the returnees with Trump's Toupee and Some Assholes Chaps taking the money 1,2 and 2,1 in the games. That's how you announce your return with authority!
As I reminder, I will not be there next Wednesday but instead I will leave you in the very capable hands of Adam who normally plies his craft at World of Beer in Arlington, so I expect you to give him a hard time, especially you Mesh.
In fact, let's start right now. Your phrase that pays is: Texas Tech Drop-out John Hinckley
See you in two.
PGTerrill
Scores for 2016-07-27
Game 1
patrick in some assholes chaps
22
csi cyber moscow in a mesh tank top
19
Game 2
patrick in some assholes chaps
29
csi cyber moscow in a mesh tank top
26