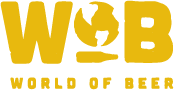 If you didn't make it out this week to World of Beer - Forth Worth you missed a lot, we had 13 teams and over 40 players! In addition this week was a pint night with Shiner bringing out their Shine Blonde light beer! If you purchased either their bock or the blonde you got to take home a nice 16 oz pint glass! They also gave away free samples of their new IPA that's coming out this Friday, and they had tons of free koozies and stickers for any paticipants! The swag bucket they gave away for 1st place was pretty awesome too! All of that combined with Taco Tuesday for World of Beer made for a great night!
Game 1
A lot of our regulars, like Got Here Late and Budgie Butt Stuff came out this week but were trounced by some teams that hadn't been out in several months. Flaming Yawn and No Names! were two teams that came out of nowhere and dominated Game 1! Shit Show put up a good fight but, unlike last week, did not take the win and had to give it the crown to Flaming Yawn in Game 1. Most surprising of all, for Game 1, Budgie Butt Stuff wasn't in the top 3! Here's the question that stumped almost everyone in Game 1:
Only one team got the answer right! It wasn't The Bachelor, Friends, Cheers, or even This Is Us. It was everyone's favorite long-running zombie show:
Game 2
One of the winners from Game 1, No Names!, couldn't stick around for Game 2 so that gave some of the other teams the chance to win. Budgie Butt Stuff took the opportunity to step up and ultimately win Game 2 with a two point lead over Flaming Yawn. The Kitchen Time Bonus round, which asked what the top 10 sports movies of all time were according to the American Film Institute, really made this a close game! There was one question that NOBODY got right, though, and it was a good one:
To me that sounds more like the name of an anime than a snack, but I honestly had no idea what it could be. it was not shrimp, tofu, or seaweed. It was actually:
Join us next week at World of Beer - Fort Worth for some fun, free trivia! You never know when a brewery will show up for a pint night so take a chance and come on out for some cheap tacos too! On top of that World of Beer membership club members also get 25% off all cans on Tuesday nights as well! Later this week Pub Guys is also hosting a Harry Potter themed trivia night at World of Beer so make sure you make it! It's a new year some bring your thinking cap and try some new beer! Until next time!
-Desmond AKA "Thassodar" or D-munny
Do not forget to keep checking Facebook, Twitter, Instagram, and right here at pgtrivia.com for bonus point opportunities, #didyouknow spectacularness and more.