Select Date
2023
2022
2021
2020
2019
2018
2017
2016
2015
1899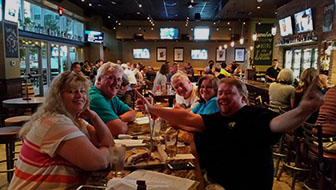 You guys are awesome. You keep me honest and never let me forget my mistakes… It's almost like we are marriedJ.
So yes, I forgot to post this before the next game but as usual, you guys knew it and reminded me. I really need an intern.
Congrats to 1Q12P and Trump's Toupee for the taking the top slots.
More to come.
PGTerrill
Do not forget to keep checking Facebook, Twitter, Instagram, and right here at pgtrivia.com for bonus point opportunities, #didyouknow spectacularness and more.
Scores for 2017-03-08
Game 1
and in 1st place with 250 points
32
30,000 mini dirks in a mesh tank top
31
we drink and we know things
31
dirk nowitski in some assholes chaps
19
stephen hawkins dance club
13
Game 2
and in 1st place with 250 points
27
bowling leage was over, so here we are
26
30,000 mini dirks in a mesh tank top
23
we drink and we know things
19
student teacher relationship
12
stephen hawkins dance club
11