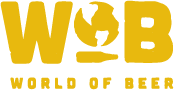 It's been a good little while since I last hosted at World of Beer in Arlington -- the place where it all started all those years ago -- and it felt good; it felt really good! While some of the questions, and even some of the rounds were a bit tough last night, the competition remained as fierce as ever with every team vying for that coveted top spot!
In the first game, it was a little of the same ol' same ol' with Punching Ms. Daisy and Mouseaholics duking it out for first and second places respectively. The second game, however, took a bit of a twist with Porter Pie storming out of the gates and maintaining a solid hold on first place while Trivia Wannabes fought off all-comers and snagged a second place finish. Congrats to all of our players.
Big thanks to Gavin from 3 Nations for being on-hand for Pint Night!
Next week, remember, is All Disney Animated Movies All Night Long! I will give bonus points to any team that has at least one player in costume, so keep that in mind.
Until then, be good to yourselves and each other.
Peace Out,
PGKyle
Do not forget to keep checking Facebook, Twitter, Instagram, and right here at pgtrivia.com for bonus point opportunities, #didyouknow spectacularness and more.