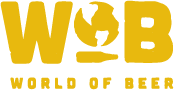 World. Of. Beer! I'm so dang excited to finally, FINALLY be back with you! I missed you guys so dang much and we always have such a great time together. The next few weeks are going to be quite excellent.
Game numero uno! We had such a good turn out, and all the teams brought their biggest and sharpest minds. You guys kept the game within just a few small points of each other. At the end of the game Mouseaholics took first place, and On Wisconsin! took second! Game numero dos! The back and forth with the single point differences did not stop when we started game two, and that was with a few brand new teams jumping in. We learned that not many people care about Earnest...but that Mouseaholics sure do love winning! They took first place again, with Punching Ms.Daisy taking second place.
For this next week, all you have to do for that extra point is to come show me that a member of your team has checked into/tagged/made some sort of soical media post that they are playing trivia with PubGuys at WOB-Arlington! Until next time, trivia loves...
May the force be with you,
PGJamie
Do not forget to keep checking Facebook, Twitter, Instagram, and right here at pgtrivia.com for bonus point opportunities, #didyouknow spectacularness and more.