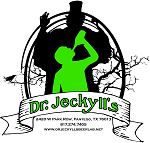 Hola, Dr, Jeckyll's drinkers and thinkers! Thanks for coming out again this week, despite the heat. And come out you did. We packed the bar to the brim this week, with all the usual faces and some we haven't seen in awhile. It was an interesting night, as I spied New Main Brewing, Legal Draft, and Division Street Brewing people all in the crowd. A battle of the brewers!
Shout out to Good Luck, Trebek! for a resounding victory this week. You guys knew it all, and no one could stand before your mighty brains.
See you next week!
—Stephen
Bonus Point
Come find me up front before 7pm next week, and answer this question for a bonus point:
Which author wrote the fantasy series His Dark Materials, soon to air as a new live action fantasy series on HBO?
(You knew it was gonna be a Literature question...)
Do not forget to keep checking Facebook, Twitter, Instagram, and right here at pgtrivia.com for bonus point opportunities, #didyouknow spectacularness and more.