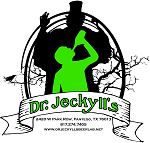 Thank you so much to PGNick for covering last week! I really appreciate it, but I missed you guys while I was gone! <3
I hope you all got to take home a rad Star Wars glass, brought to you by Josh from Noble Rey Brewing Co. in honor of the new Solo movie coming out this week! Along with that schwag, we got some beautiful (and sour) beer and gear. Paul wins a prize every week, but we had BOTH Pauls win this week. Maybe you should all drink as much as a Paul...
We had an easy first round, but throughout the game we had some clear front runners. Whores With No Johns came in 3rd with 38 points, but they took home the 2nd place prize since Macareno SLEW AGAIN with 39 points. Holding down the fort all night was Toolbox, ending up with 45 points.
As always, I love doing this. Thank you for having me out, and I will see you next week for Memorial Day!
Peace Out, Girl Scout.
PGKT
Do not forget to keep checking Facebook, Twitter, Instagram, and right here at pgtrivia.com for bonus point opportunities, #didyouknow spectacularness and more.