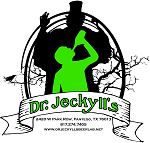 Thanks for ciming out this week, you trivia maniacs! We had a great game this week, with all the ususal players duking it out on a hot Monday night. At least the beer was cold. The great big puppy, Ronin, was on hand, to everyone's delight. And a certain underage player gave his team the key to victory with his knowledge of Jewish folklore... just kidding, it was Minecraft knowledge.
Shout out to Good Luxk, Trebek! for handily winning trivia last night. You guys crushed it.
See you next week, for the last time here at Dr. Jeckyll's. August 12th is the return of the indomitable Katie!
—Stephen
Bonus Point
Find me in the bar before 7pm and answer the following question:
Which author has written two bestselling novels retelling classical stories from Greek mythology for a modern audience, one based on Achilles, and another on the sorceress Circe?
(It's lit! 🔥📚🔥)
Do not forget to keep checking Facebook, Twitter, Instagram, and right here at pgtrivia.com for bonus point opportunities, #didyouknow spectacularness and more.