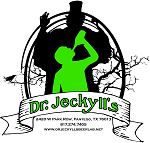 I had to quote JT on this day. Don't judge me. What a great turnout! You guys were hyped and I truly appreciate it! Tallgrass Brewing Co really showed up tonight, too. Clayton brought in some AWESOME beer and gear including their 10th Anniversary German Chocolate Cake, which held up to its name.
Macareno gave you a run for your money all night, but ended up in 3rd. Don't worry, they wouldn't have taken the prizes if they had won. Suck it, Trebeck! came out after a few weeks off and got 2nd with 40 points, putting The Two John's in 1st with 42 points. Shout out to Anne from Porkchop Xpress who walked up to the prizes, pointed to the one she wanted, and ended up being the winner of the final drawing on that beer tasting set from Tallgrass. How does that even happen?
Thank you for an awesome night of trivia. I can't wait to come out again. Feel free to argue with and harrass me, because I will do it right back. (I'm looking at you, Paul and Dusty)
Peace Out, Girl Scout.
PGKT
Do not forget to keep checking Facebook, Twitter, Instagram, and right here at pgtrivia.com for bonus point opportunities, #didyouknow spectacularness and more.