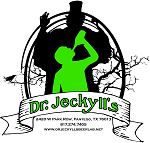 Last night I got the chance to host trivia at this cool place, and I had a lot of fun! The game is played in a slightly different way than what I'm used to. One long game with six rounds, pint night raffle giveaways, and an exuberant crowd. Personally, I think I might try that out in Dallas. What was so fun for me was the fact that there were lots of things to keep my mind occupied during the game. It's good to break away from the normal rhythm and breathed new life into hosting a game. The format also keeps the crowd very engaged, and I have to say that y'all were certainly into it. If you aren't checking out this game at Dr. Jeckyll's, you really should. It's a fun, laid-back kind of place, where you can enjoy a great selection of beers, relax with your friends, and play a really fun game.
Thanks PGKyle for giving me the mic for the night, and thank you Jeckylls for being so welcoming to me. Good times were had!
Cheers
PGMarc
Do not forget to keep checking Facebook, Twitter, Instagram, and right here at pgtrivia.com for bonus point opportunities, #didyouknow spectacularness and more.