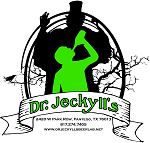 For those of you who don't know, it's Teacher Appreciation week! Thank you to all the educators out there, ESPECIALLY if you still choose to participate in trivia. I'd buy you all a round, but since I am also a teacher, you know I definitely can't afford it. Rahr & Sons was in the house with some fresh and fruity summer beers brought to us by Samantha. Thanks for the beer, gear, and neat glasses to take home!
Disclaimer: this is the first time since I've started hosting that the lovely ladies of Macareno have placed in the top two for trivia! They aren't going to gift themselves the prizes, so in 3rd place (earning the 2nd place prize) with 39 points was Luke Warm for Teacher. Macareno came in 2nd with 40 points, and Toolbox came in 1st place with 41 points!
Thank you for coming out tonight! Thank you again to the teachers out there, and I will see you in TWO weeks! Get hyped for the host next week!
Peace Out, Girl Scout.
PGKT
Do not forget to keep checking Facebook, Twitter, Instagram, and right here at pgtrivia.com for bonus point opportunities, #didyouknow spectacularness and more.