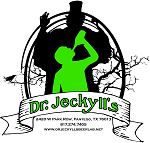 Thanks for another fun night of PGTrivia! I know we were exhausted after a wild 4th, but I'm so happy you all showed up tonight.
The One and Only V came in 3rd with 22 points, Shade and Sweet Water was 2nd with 26 points, and No Eye Dear FINALLY won with 27 points!!
As always, you're a gentleman and a scholar.
Peace Out, Girl Scout.
PGKT
Do not forget to keep checking Facebook, Twitter, Instagram, and right here at pgtrivia.com for bonus point opportunities, #didyouknow spectacularness and more.