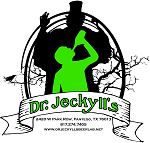 Welcome back to another fin night of PGTrivia at Dr. Jeckyll's! Thanks for your patience as I had to scream questions at you during our mic issues, and shoutout to Scott for fixing the microphone for me! Another shoutout goes to Alex from St. Arnold's for the sweet beer and gear.
It was an interesting night of technical difficulties BUT Beauty and the Beastmode finished 3rd with 35 points, Total Recall claimed 2nd with 38 points, and Good Luck, Trebeck! Sealed the deal again with 40 points.
Thank you all for coming out, and I hope to see you again next week!
Peace Out, Girl Scout.
PGKT
Do not forget to keep checking Facebook, Twitter, Instagram, and right here at pgtrivia.com for bonus point opportunities, #didyouknow spectacularness and more.