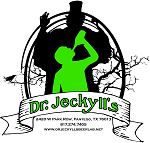 What can I say?
Four weeks in, and we're not only going strong but building. It's been a lot of fun testing the waters at the new location: what works, what doesn't work, etc.
In the end, Dunder Mifflin Infinity took home the top prize while the Same Sexers took home the second place prize. Congratulations to both teams.
I'll be back in the saddle next Monday to do it again. Until then, take care of yourselves and each other.
Peace Out,
PGKyle
Do not forget to keep checking Facebook, Twitter, Instagram, and right here at pgtrivia.com for bonus point opportunities, #didyouknow spectacularness and more.