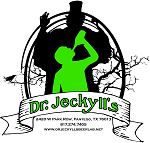 You guys were so hyped tonight! THANK YOU. It really helps me out when you guys are jammin with me. As always, thank you to Mary, Anne, and Dooley. They work hard to keep the food and the beer flowing. (Did you get a $2 taco? I hope you did.) Eric brought in some great beer and gear from Rabbit Hole Brewing, and for the SECOND WEEK IN A ROW: Anne from Pork Chop Xpress won TWO of the prizes. Someone needs to trade tickets with her.
We had lots of teams participating, and at the end of the 4th round we had a four-way tie for 1st. 'Twas an intense game. Tied in 3rd with 30 points were Toolbox and Silly Rabbit, Trix are for Kids! In 2nd with 31 points was, brand new to PGTrivia, Team Team! And in 1st on their second week with us, we had The Butt Sisters with 32 points. These new guys are kicking your tails...
Thank you for a super fun night. If you ask me to play a game of pool next week and win, I'll buy you a beer. You guys rock.
Peace Out, Girl Scout.
PGKT
Do not forget to keep checking Facebook, Twitter, Instagram, and right here at pgtrivia.com for bonus point opportunities, #didyouknow spectacularness and more.