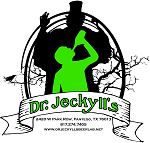 A slightly smaller crowd than has been the norm, but that's what happens when the day starts with a torrential downpour and then devolves into the insanity sauna that it became. Nevertheless, you persisted and we had a grand time; yes we did!
Saint Arnold Brewing Company was in the house, and the rep, Doug, was there to politely answer all of your questions regarding the beers on tap. He also provided a few items that got raffled off during the evening to great acclaim! Because, seriously, who doesn't want some 8-bit Saint Arnold socks?
At the end of the evening, we discovered that even every once in a while the email question is hard, but it is doable. No one really knows who Clayton Moore is anymore and the bygone days of T.H. White's England are no longer relevant...even when Disney adapts it. :-)
When it was all said and done, we, once again, had a very close game. Daisy walked away with second place on the evening only one point ahead of 3rd place while Same Sexers took home first place just barely staying ahead of Daisy. Thrilling to the very end.
Thanks again to Dr. Jeckyll's Beer Lab for letting us come back week after week and play our trivia. We appreciate you.
Until next week, folks, take care of each other but most importantly, be good to yourselves.
Peace Out,
PGKyle
Do not forget to keep checking Facebook, Twitter, Instagram, and right here at pgtrivia.com for bonus point opportunities, #didyouknow spectacularness and more.