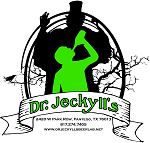 THANK YOU for choosing to participate in some PGTrivia here at Dr. Jeckyll's instead of drinking somewhere else for the holiday. Rabbit Hole Brewing brought in some sweet beer and gear, next time the prizes could be YOURS!
In third place with 32 points was Lick My Rabbit Hole, in second with 37 points was KT's Boyz (cool name) and again all by himself in 1st with 40 points was Total Recall.
I hope you enjoyed your day off from work, and I can't wait to see you next week.
Peace Out, Girl Scout.
PGKT
Do not forget to keep checking Facebook, Twitter, Instagram, and right here at pgtrivia.com for bonus point opportunities, #didyouknow spectacularness and more.