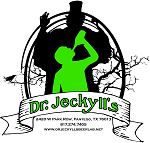 Thanks everyone for coming out tonight for a great night of trivia, and delicious tacos! We had a good crowd at Jeckyll's tonight, including a few new faces along with all the regulars. Shout out to We Are Bob for their come-from-behind, strong final rounds. You had a solid finish! Can't wait to see you all next week.
Bonus Point
Just wander up to the stage any time before 7pm and answer this wuestion for a free bonus point:
What is the name of the female cat that ocassionally bedevils Garfield in the eponymous newspaper comic strip?
Do not forget to keep checking Facebook, Twitter, Instagram, and right here at pgtrivia.com for bonus point opportunities, #didyouknow spectacularness and more.