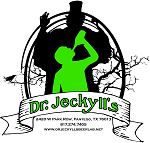 Thank you guys for being flexible and willing to make a food run in the beginning of the game! We just wanted to keep you on your toes.
Pork Chop Xpress took 3rd with 39 points, Total Recall came in 2nd with 42 points, and Sorry We're Late finished on top with 45 points!
I hope you all had an awesome Labor Day and I'll see you next week!
Peace Out, Girl Scout.
PGKT
Do not forget to keep checking Facebook, Twitter, Instagram, and right here at pgtrivia.com for bonus point opportunities, #didyouknow spectacularness and more.