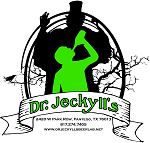 A huge shout-out to Dogfish Head Brewery who brought the swag and the beer last night. Thanks, Bill for being a great rep and great sport.
Ales from the Crypt came out of the gate a little bit slow, but picked up the pace and took home the big prize handily while house-regulars The Morning After Pilsner grabbed a very strong second place finish just two points back.
Don't forget that on the 30th of October, we're having an all-Halloween-themed evening followed by a screening of The Rocky Horror Picture Show where costumes are encouraged, but not required.
Until next week, my pretties, be good to yourselves and each other.
Peace Out,
PGKyle
Do not forget to keep checking Facebook, Twitter, Instagram, and right here at pgtrivia.com for bonus point opportunities, #didyouknow spectacularness and more.